Upgrading Your Klaviyo Integration
Wonderment's new Klaviyo integration works via OAuth, which means a one-click integration, and a new two-way data sync. New features like Transactional Revenue Reporting are enabled through this new integration.
No changes are required to your flows, segments, or other data to use the OAuth integration. All event names and variables are the same in the new integration.
Activating Klaviyo
Visit the Klaviyo Integration Settings Page.

Click "Activate OAuth". You'll be taken to a Klaviyo login screen to confirm the integration.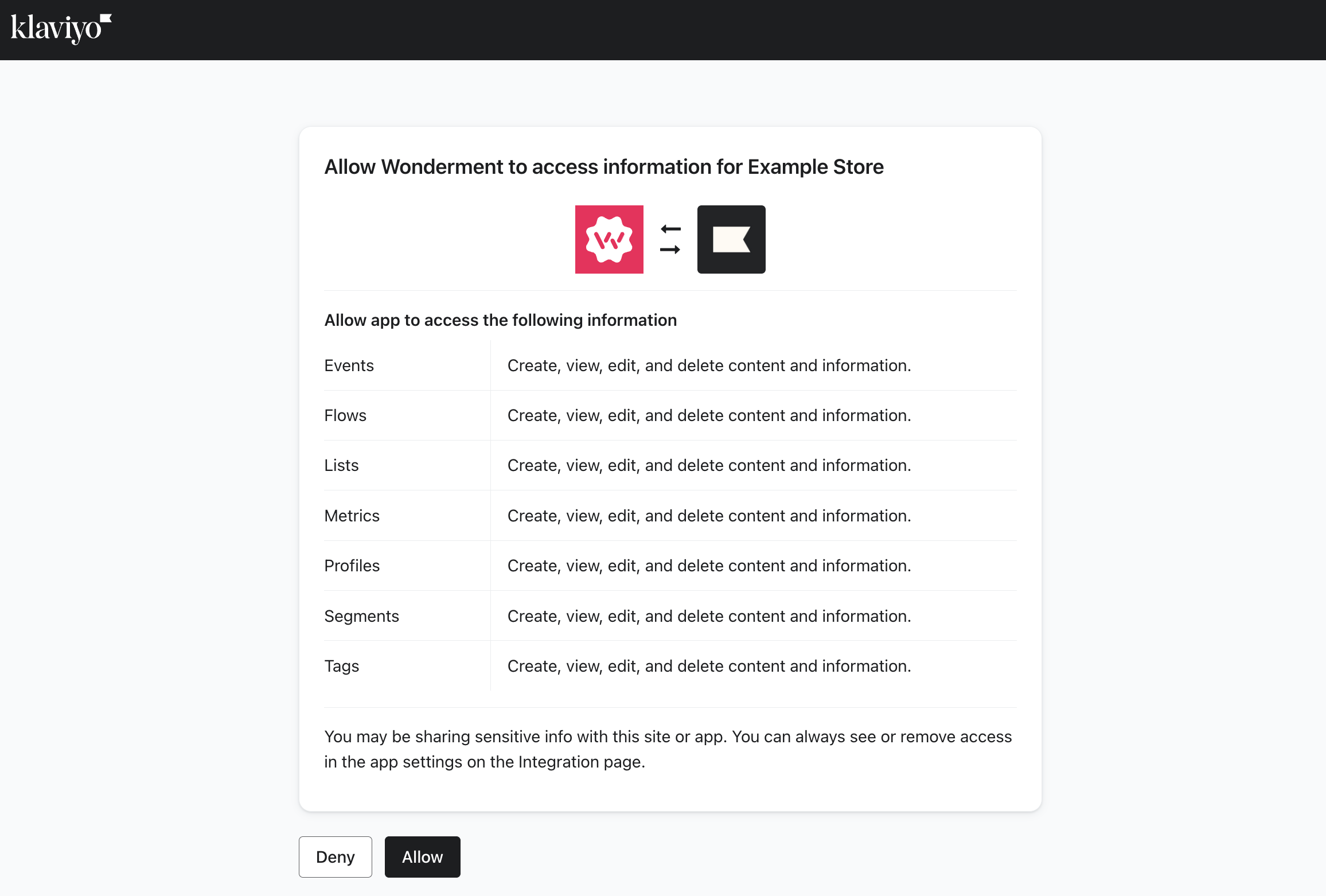 Click "Allow" and you'll be back to Wonderment. The new integration is now active.
What's New With Klaviyo OAuth
Once you've upgraded to Klaviyo OAuth, several new features are available:
Transactional Revenue Reporting
See your Flow performance data in Wonderment, like Open, Click, and Placed Order rates. Learn more about our Revenue Reporting in the help doc.
Delivery Experience Events
Survey customers about their delivery experience, and if everything went well. When someone responds to the Delivery Experience survey, a Klaviyo event is created with the data of their response so you can automate follow-up emails to positive and negative responses. Learn more about creating Delivery Experience surveys.
Tracking Page Viewed Event
See tracking page views associated with Klaviyo profiles. Create follow-up experiences when you identify potential problems such as customers repeatedly checking the tracking page in a short time. Learn more and see flow templates in the Tracking Page Viewed article.
More is coming soon - We will continue to improve our Klaviyo integration in the coming months. Have ideas for new ways you'd like to see Wonderment and Klaviyo work together? Let us know through Wonderment Support.
---
---